Italian Provinces Award 2017
This award is open to all 11 meters operators all over the world, despite of their group or association.  Everyone, AT's and non AT's will be welcome!
Along all the 2017 each weekend will be activated several italian provinces, for one or more time, so you will have the opportunity to contact the greatest number of them.
The IPA stations will not issue any progressive number, but only the RS report and eventually confirm you are in the log.
The QSL is not necessary and not expected. At the end of the event will be available for each partecipant a personalized digital award (the I.P.A. Award) with the own score. Everyone will be able to download it, print it, and so on.
The log of all IPA stations will be sent to the organization team, which will collect them in a unique database published here, in order to allow eachone to check the own score in evolution during the year.
All partecipants will get a unique confirmation represented by a full colored award in A4 paper size, personalized with their call sign and the list of the confirmed provinces.  Everyone will be able to download and print the own award directly from this site.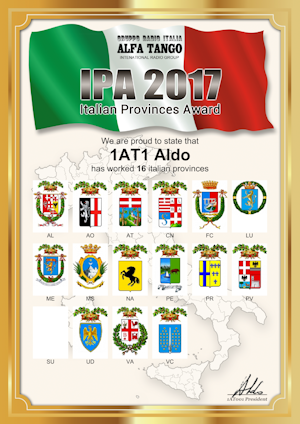 During the World Meeting 2018 in Asti will be awarded the operator who will have worked the greatest number of provinces.
Remember to check the frequency on the 2017 weekends, every saturday and sunday!
The next IPA2017 events are:
On-air on 23 and 24 September: